EPPF Hand Book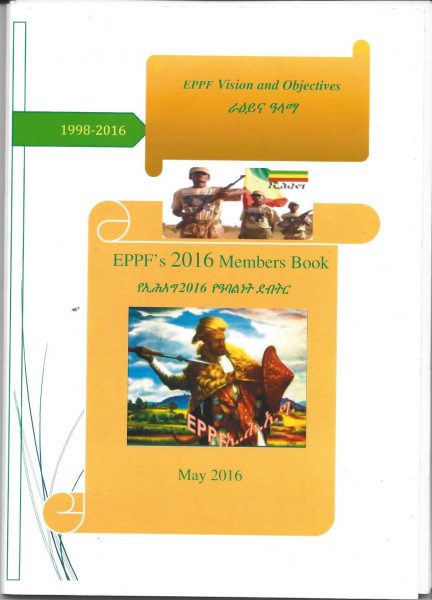 This Book a short synopsis Ethiopian People's Patriotic Front. EPPF is an organization standing for Ethiopian liberty and equality. EPPF is struggling to give power to the people, for the people, and by the people! The Book is destined mainly for EPPF members.
About the Book
EPPF   is an organization found in Spring of 1998. EPPF is established in north western parts Ethiopia by Ethiopians fighting for the liberation of their homeland from Irredentism, Drought, Famine, War and backwardness.
EPPF 's main aim and objective is to bring down the EPRDF's one ethnic based regime, without collapsing the State. Thus, Ethiopia will not have to test the bitter herb of Pan-Somalism.
EPPF is for the restitution of glorious Ethiopia based on trance-ethnic, trans-linguistic and non-confessional principles. Its main ideology is Ethiopianism.
https://www.youtube.com/watch?v=sLxO83zzXM0
Disclosure of Material Connection: Some of the links in the page above are "affiliate links." This means if you click on the link and purchase the item, I will receive an affiliate commission. I am disclosing this in accordance with the Federal Trade Commission's
16 CFR, Part 255
: "Guides Concerning the Use of Endorsements and Testimonials in Advertising."